PVC FORM SHEET/BOARD

PVC FORM SHEET/BOARD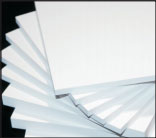 PVC foam board/Sheet is a composite material that is used in the advertising, furniture and building industries and it is a substitution of Plywood, Marine Ply and Particle Board. It can be used for making ceiling panels, cabinet doors, decorative wall and door panels. It's made of Poly Vinyl Chloride is moisture-resistant and fire-proof. It lasts long and does not fall prey to termites or corrosion like wood and metal.
The main material PVC resin can be foamed and extruded into a special sheet with many advantages, such as glossy or matt surface, waterproof, flame-resistant, UV stable, sound and heat insulation, anti-chemical corrosion, etc, it has a very widely applications.
PRODUCT FEATURES
Water Proof, Termite Proof, Borer Proof, Rust Proof, Weather resistant, Fire Retardant
Resistant to chemical & corrosion
Easy to work and Process
Good sound insulation, Good thermal insulation
Suitable for both indoor & outdoor application
Light Weight, Smooth and Glossy surface
Direct Digital printing
Suitable for film lamination
Highly suitable for printing, lacquering fine celled foam structure
3 Layer uPVC foam board, top and bottom is uPVC and middle is foam PVC material
| Prooerties | Unit | Average Result |
| --- | --- | --- |
| Apparent density | g/cm | 0.5-0.8 |
| Determination of Water Absorption | % | 0.19 |
| Tensile Strength at Yield | Mpa | 19 |
| Elongation at Break | % | 16 |
| Flexural Modulus | GPa | 0.9 |
| Charpy Impact Strength | KJ/m | 1.4 |
| Shore D Hardness | Value | 50 |
| Pulling Strength | Mpa | 12 |
| Bending Strength | Mpa | 20 |
| Compressive Strength | Mpa | 4 |
Note: The information on physical and chemical characteristics is based upon tests believed to be reliable. The values are intended only as a source of information. A legally binding guarantee of specific properties is not to be inferred from our specifications. They are given without guaranty and do not constitute a warranty. The purchaser should independently determine, prior to use, the suitability of this material for his/her specific purpose.
Available Products
SPECIFICATION
Thickness : 1-5mm
Width: 1220mm
Length: 2440mm & As requirement
Density: 0.47 , 0.50
Color : white, light gray, red, yellow, green, blue, black etc.
Bookmark & Share