Installation Guidelines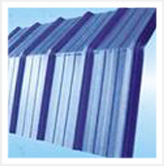 uPVC V shape Ridge:
Thickness: 2, 2.5, 3 (mm)
Width: 1130 mm. (1.13 mtr.)
Length: 300mm + 300mm
Angle of ridge: optional (90~180 degree)
Special Waterproof Accessories
Tapping Screws & Fixer set
(19mm, 25mm & 55mm)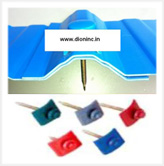 The special waterproof accessory is very important for installation. We need to use the special waterproof accessory to fix the roofing sheet properly. To avoid the roof sheet have unusual circumstance (such as water-leakage, distortion etc.), then effect the lifespan of products. When install, must be use the waterproof fixing accessory and always recommend to experienced fabricator / worker to install our sheets.
1) with the special accessories can be waterproof, strong wind withstand and corrosion resistance. the structured of accessory fully sealed with screw lead, screw head so as to solve the corrosion, waterproof apron aging and screw holes of the leakage problem; pressed with a waterproof apron below, to prevent infiltration of surface water watt screw hole; screw fixed of the increase, also plays against typhoon function.
2) The accessory must be installed in the top of wave.
3) We request to use the accessory minimum 5 set/sq.mtr.
4) The roof truss structure adopts sectional steel or wood as purlin, the purlin is required to be flat without deformation, and two purlins must be in parallel with uniform span.
For DION sheet with thickness of 1mm the purlin span <1.5 feet, 1.5mm the purlin span <2feet, 2mm the purlin span < 2.5feet, 2.5 mm the purlin span <3feet, 3mm the purlin span <3.5feet is recommended. The transverse lap joint must be a complete lap jointed slope, the longitudinal lap joint length >1feet. End overhang <1feet and Side overhang <0.3feet. In the case of fixing by tapping screw, drill a hole in advance, the aperture must be 50% larger then the screw diameter, fixing by DION hook is recommended. Screw and DION hook can be used together, the screw must not be over-tightened, and otherwise stress will occur, resulting in local crack on tile surface.
Download Guidelines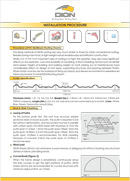 Available Products
Bookmark & Share