FRP Roofing Sheets

DION FRP (Fiberglass Reinforced Polyester) Roofing sheet
DION FRP (Fiberglass Reinforced Polyester) sheet is a kind of transparent natural lighting product which is successively shaped through mechanization by adopting such materials as non-soda glass fiber, reinforced poleyster resin, import high-performance anti-ageing film (or gal) and additive.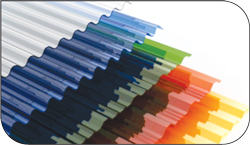 DION FRP Profile: Round, Greca & Trapezoidal
Thickness: 0.8, 1.0, 1.5, 2.0 (mm.)
Width (Feet): 3.25 & 4.0.
Length (Feet): 6, 8, 10, 12, 14
Color: Clear, Sky Blue, Light Green
As a product, FRP sheet is deeply welcomed by consumers. Because FRP sheet has many merits: Bright and clean appearance, light weight and high performance, high light transmittance, anti-corrosive, anti-ageing, fireproofing, accurate cross-section size, not seeping, random, length cutting, easy to install and service life reaching as long time.
It can be widely applied in natural lighting in animal or plant greenhouse, the roof of industrial workshop and civil construction, wall surface natural lighting, cover plate and basse plate of solar water heater as well as other places which require natural lighting and long service life.
Available Products
uPVC Roofing Sheets
Color Coated Roofing Sheets
uPVC FRP Roofing Sheets
Bookmark & Share